Top Private Schools in Chapel Hill , NC [2022 Edition]
Posted by Brandon Duncan on Sunday, November 14, 2021 at 9:35 AM
By Brandon Duncan / November 14, 2021
Comment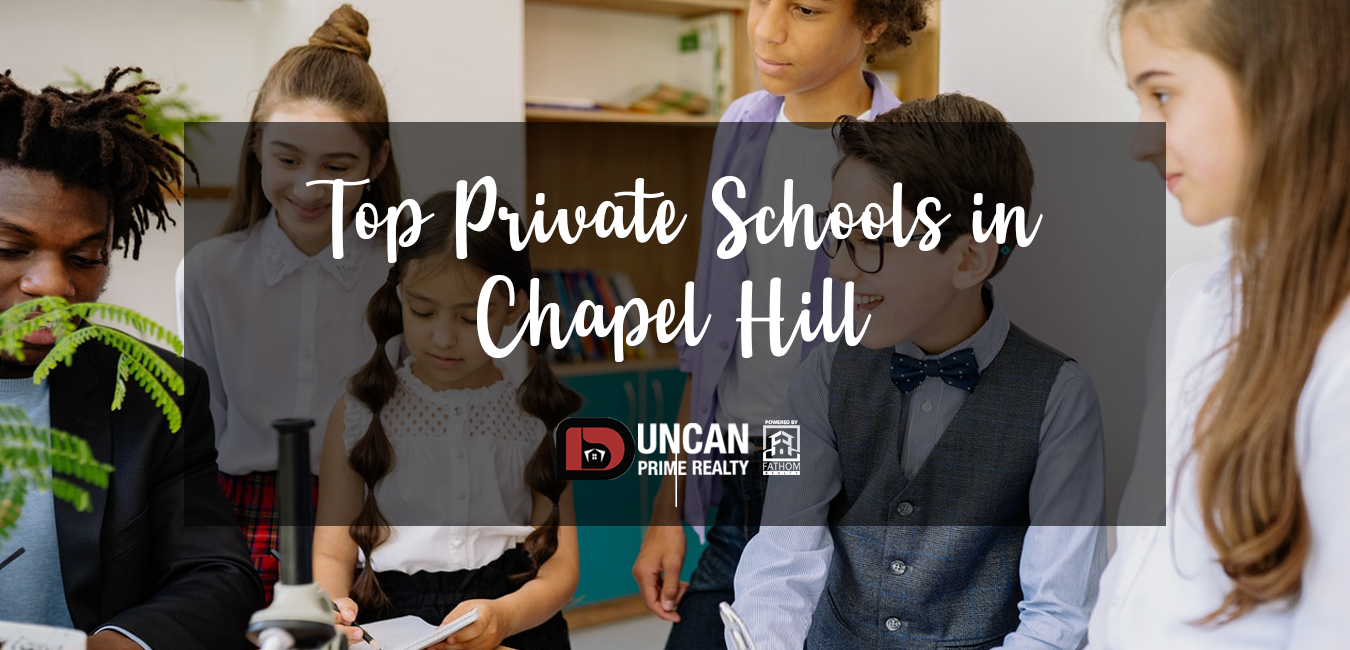 Surrounded by top colleges and universities, Chapel Hill presents some exciting educational options. While Chapel Hill is home to the esteemed University of North Carolina at Chapel Hill, it is also a top city for younger students.
Parents have a large number of choices when it comes to education, including some admirable private schools. Here are some of the top private schools found in Chapel Hill, North Carolina.
St Thomas More Catholic School
Address: 920 Carmichael St, Chapel Hill, NC 27514
St Thomas More Catholic School in Chapel Hill has more than 350 students enrolled in PK through 8th grade. The school boasts an average student-to-teacher ratio of nine to one. The school sits on a 23-acre campus with a separate middle school building for those in 6th through 8th grade, as well as a lower school building for students in the younger grades. St Thomas More also has a gymnasium, an athletic field and playgrounds, as well as an Art & Music Center for its students to take advantage of.
Emerson Waldorf School
Address: 6211 New Jericho Rd, Chapel Hill, NC 27516
In operation since the mid 1980s, Emerson Waldorf School accepts kids in Pre-K through 12th grade. Less than 300 students attend the school, which boasts an average student-to-teacher ratio of ten to one. The unique school sits on a more than 50-acre wooded campus, which includes a woodwork shop, a handwork building and a music building. The school even owns a nearby farm, allowing for a farming and gardening program for its students.
Montessori Day School
Address: 1702 Legion Rd, Chapel Hill, NC 27517
Montessori Day School in Chapel Hill serves kids in PK through 6th grade, but it also offers some programs for toddlers starting at age 18 months. In operation for more than four decades in Chapel Hill, Montessori Day School takes the philosophy that children learn best at their own pace, guided by teachers. The school has been in its current location on Legion Road in Chapel Hill since 2013.
Searching Chapel Hill homes for sale?
Browse available property listings using our comprehensive
Triangle Area school guide
or contact Dunan Prime Realty, the Triangle's local real estate experts, for all your buying and selling needs!
Jordan Lake School of the Arts (JLSA)
Address: 1434 Farrington Rd, Apex, NC 27523
Jordan Lake School of the Arts Is a non-traditional private school close to Chapel Hill with a nature and arts based program for its students. Kids enrolled at this school go on morning hikes near the lake and receive a more personalized education. Most of the time, kids at JLSA are not seated at desks, but rather they receive an individualized education at their own pace. The school has a one-to-five ratio of students to teachers and kids are assigned to multi-aged classrooms. The school sits outside of Chapel Hill city limits in Apex.
Legacy Academy
Address: 515 E Winmore Ave, Chapel Hill, NC 27516
Legacy Academy focuses on preparing and setting the stage for some of Chapel Hill's youngest residents to expand their educational pursuits in the future. This preschool presents a learning environment with activities geared toward their age specific development. Children enrolled at Legacy also participate in music and they learn a foreign language. An elementary-age program provides before and after school care, plus sometimes care on school breaks and during the holidays.