Tips For Buying a Home When Inventory Is Low
Posted by Brandon Duncan on Saturday, March 5, 2022 at 9:59 AM
By Brandon Duncan / March 5, 2022
Comment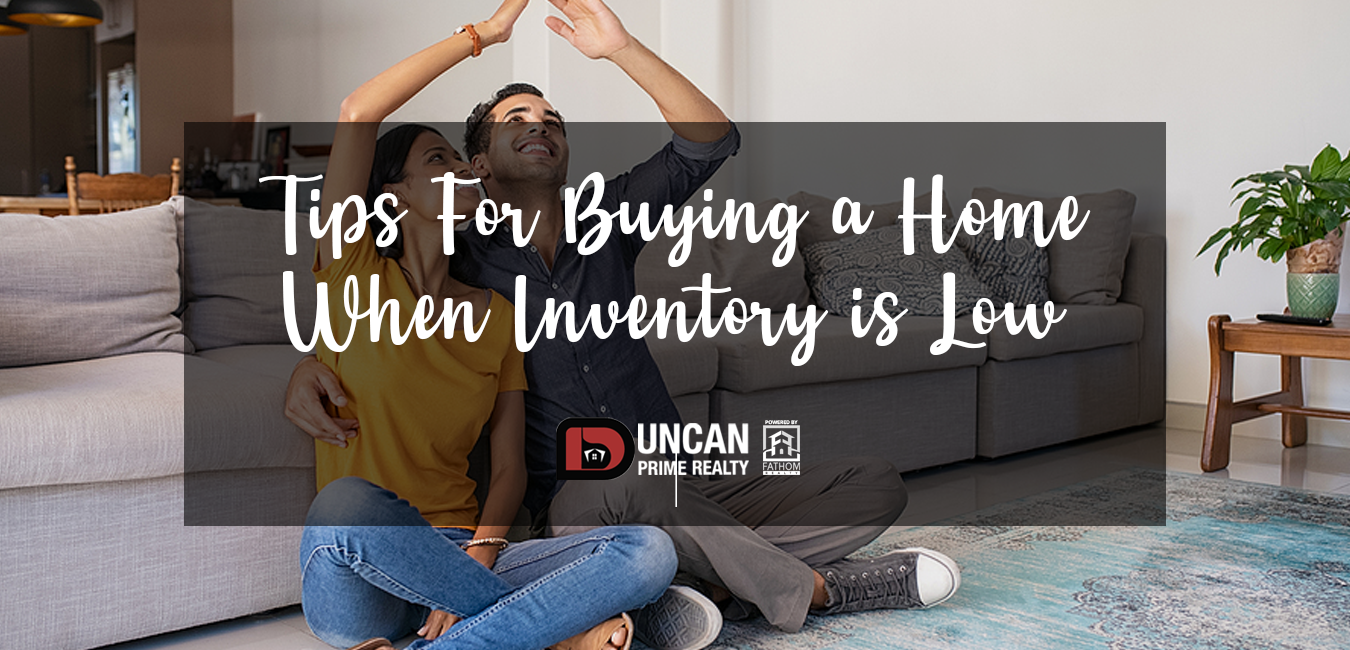 Homes are selling fast right now, and in most places, inventory remains low. So, how do you buy a home in a hot market? Here are a few tips to get you in the home you want, when there are fewer options up for sale.
Understand your budget
The first thing you need to do is to have a good understanding of your budget. You don't want to get stuck with a home you can't afford. If you're ready to buy, take a good look at your budget. A good rule of thumb is to not have your monthly mortgage payment exceed 25-percent of your monthly income.
You need to keep tabs on the interest rate too, because it's expected to go up. If you don't lock in a mortgage, the home you can afford now may not be the same home you can afford in a couple of months. Also, keep in mind your monthly mortgage rate isn't the only financial consideration. You also need to think about things like:
Insurance
Dues
Fees
Taxes
Don't start at the top of your budget
In a low inventory housing market, you don't want to start out looking at homes at the very top of your price range. A lot of homes are selling for above asking price right now, which means you could quickly price yourself out of a home.
Use a real estate agent
Now is not the time to try and navigate the real estate process alone. It's a good idea to work with a real estate agent. Bidding wars are common right now, meaning you need someone who can help you..
Negotiate the price
Understand contingencies
Put in a competitive offer
Understand the bidding process
Someone knowledgeable about the local market, down to the neighborhood you're searching, can only help when the housing inventory is low.
Get pre-approved
It's also important to be pre-approved for a mortgage. Get with your lender right away to discuss the different loan options. Being pre-approved helps show sellers you're serious about buying a home. If you have a reputable loan and a solid down payment ready to go, sellers may be more willing to choose your offer. You don't want to be caught in a situation where you're still waiting for financing and another buyer is prepared to close the deal.
View this post on Instagram
Be ready to make an offer
Speaking of that offer, when you do find a home you like, act fast! When inventory is low you don't have time to second-guess. If you've found a home in the perfect location and for the perfect price, it's likely you're not the only one interested. Your real estate agent can help submit an offer and get the process rolling, making it more likely your offer will be considered.
Consider closing time
Some homeowners are eager to sell quickly. This can be especially appealing when the home is already vacant. A typically closing period is usually around 30 to 45 days. That's when there aren't any issues that come up.
The time can depend on your loan and the housing market. An FHA loan typically has a longer closing period, but usually the thing that slows down a closing is buyer financing. If it's a cash offer, the home can close in a week. A quicker close can be appealing to some sellers and some buyers.
Other tips:
It helps to be creative with your offer. Of course, sellers are often looking for a certain price, but there are also some other things you can do to help your offer stand out, like writing a personal letter to the homeowner.
You may have to give up something you want, or even pay a little more upfront. Although a buyer probably has less room for negotiating in a tight market, it doesn't mean it can't be done.
Remove extra contingencies
It's probably a good idea to remove some of the extra contingencies. The fewer you have, the more likely your offer will stand out.
With an older listing, the owner may be more willing to come down in price or negotiate if the property's been sitting on the market for a long time.
Don't make a desperate move
Even though it may get frustrating, remember not to make a desperate move. You don't want to end up overpaying for a home you don't want just to get in a home quickly.