Tips For Buying a Home That Needs Work
Posted by Brandon Duncan on Friday, March 11, 2022 at 7:30 AM
By Brandon Duncan / March 11, 2022
2 Comments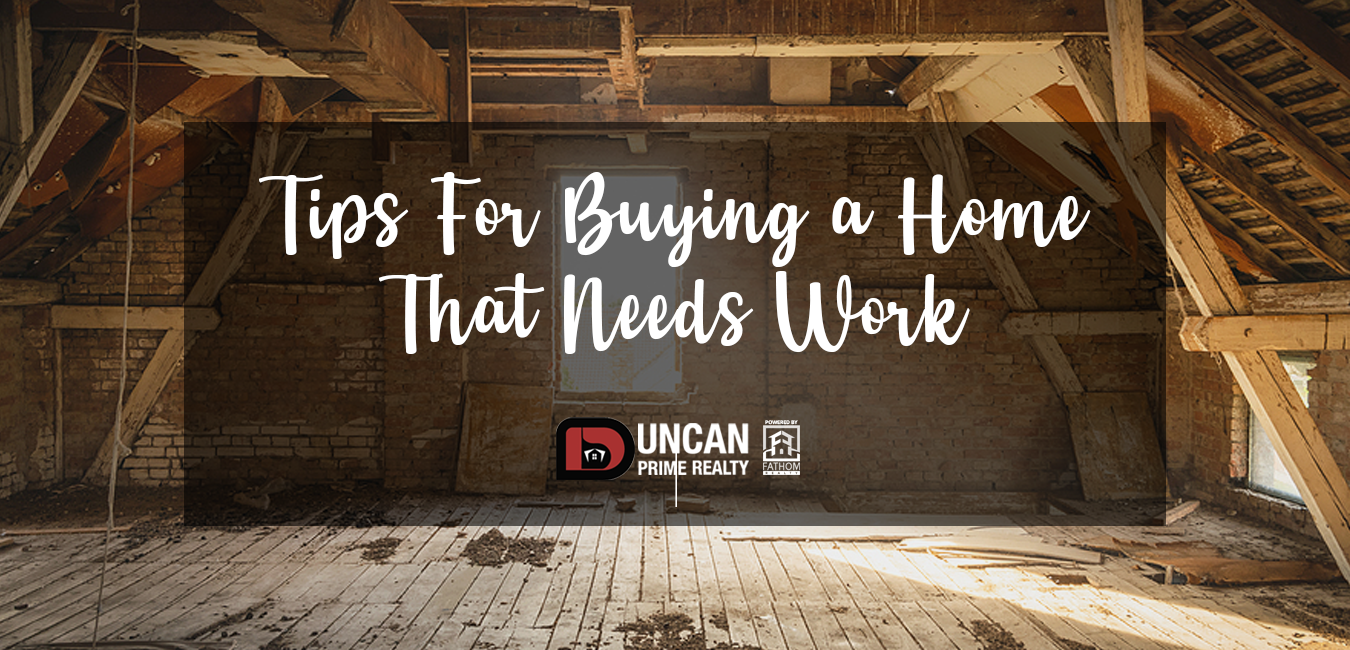 The residential real estate market is hot right now, and that may mean considering a home that needs a bit of work. Here are a few tips for buying a home that's not quite move-in-ready:
Professional home inspection
First, you don't want to buy a home like this without a professional home inspection. Make this a standard continency that you can get out of the sale if something major or dangerous is found during the home inspection. This could allow you to potentially back out of the contract, ask the seller to make the repairs, or renegotiate the purchase price.
Make sure you know exactly what's involved in the home inspection, too. You may need a separate inspection to test for things like mold, pests, or other concerns.
Check for old electrical/plumbing issues
An older home that needs some work may not be up-to-code. Older electrical systems and plumbing can be expensive to replace, but an old system that's not maintained property could accidentally start a fire or lead to some leaks. It's important to ask how old both systems are, and when they were last updated. If they need to be replaced, you'll want to know about the cost. It could end up a bigger project than you were imagining.
Check for structural/foundation concerns
Another major problem could be tied to the home's foundation or potential structural issues. Over time, walls tend to crack, plus there could be some corrosion or moisture damage. Take a close look to make sure the home doesn't have uneven floors and cracked tile or even visible wall cracks. You'll also want to check to see that doors and windows open fairly smoothly. Again, this could be a big and potentially expensive project that you may not be willing to undertake.
View this post on Instagram
Room for negotiation
A home that needs some work may be the perfect home to test out your negotiation skills. It doesn't always work in a hot market, but you may be able to negotiate the price a bit to take care of some of the repairs and updates that need to be made. You could ask the seller to take on some of the closing costs or work some other things into the sale. Lean on your real estate agent to help you through this process. They'll be able to help you come up with a fair price and potentially negotiate some of the things you want.
Mortgage options
When it comes to buying a home that needs some work, you may qualify for other types of mortgages. A renovation loan allows you to finance the home, plus make some improvements, too. You're then able to pay off those improvements at a lower interest rate and over a longer period of time than some other loans. Here are some of the options out there. Some of them require different credit scores and income levels.
VA Renovation Loan
FHA 203 (k)
Fannie Mae HomeStyle Renovation Loan
Freddie Mac CHOICERenovation loan
If you live somewhere else while those home improvements are taking place, a fixer-upper mortgage may be able to help you cover your mortgage payments. There may also be some funds if the project comes out higher than the original estimated cost.
Having a tough time finding the perfect move-in ready home?
Search Triange Area fixer uppers
, or contact Duncan Prime Realty directly for help with all your buying needs in a tough market!
Outdated homes
When it comes to outdated homes, the appeal may come down to personal taste. While some may consider a home with certain features undesirable, this doesn't make the home unlivable. Cosmetic repairs are much less expensive than putting on a new roof or making structural repairs.
There are times that expenses could get out of hand. As with any home that needs some work, you could run into unexpected issues. You may tear up the flooring only to find water damage that eats into your budget.
You may want to prioritize which projects in the home get attention first, and which will have to wait. Major issues are one thing, but you may be able to hold off on replacing things like worn out flooring and outdated fixtures.
Foreclosures
Usually, a foreclosure isn't in perfect shape, as these homes are generally sold as-is. Since the bank owns the home, it probably hasn't been updated recently or it may have been vacant for a period of time. You may be able to negotiate a better price directly with the bank because they don't want the home sitting vacant for the foreseeable future.
If you buy at auction, you may get a great deal too, but you will likely have to pay cash. With a home like this, though, the home is sold as-is, so you need to be prepared for whatever that means.
Search Triangle Area Fixer Uppers