The Best Florists in Chapel Hill, NC [2022 Edition]
Posted by Brandon Duncan on Wednesday, December 15, 2021 at 8:28 PM
By Brandon Duncan / December 15, 2021
Comment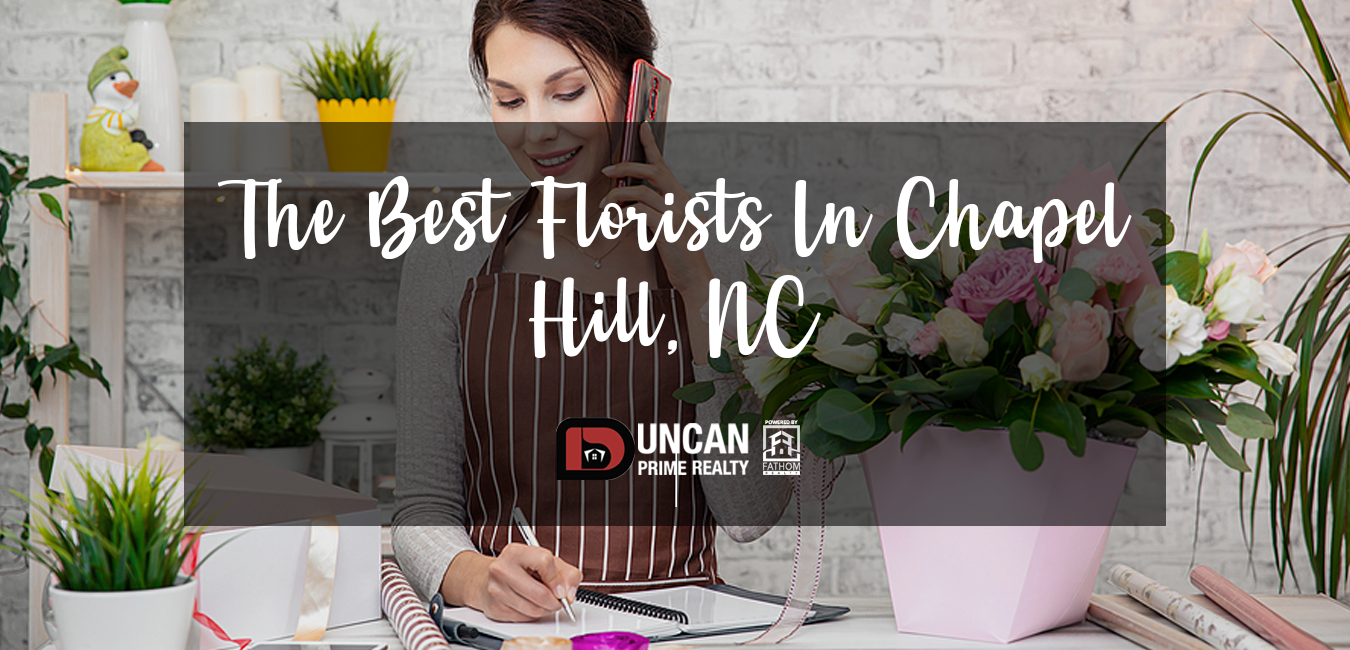 Flowers are for all occasions, and no one knows that better than your local flower shop. Here are some of the best florists to consider in Chapel Hill, North Carolina:
Chapel Hill Florist
200 W Franklin St Suite 120, Chapel Hill, NC 27516 | INSTAGRAM
The name says it all at Chapel Hill Florist on West Franklin Street. The business accepts both phone orders and online orders, plus it offers some same-day flower deliveries. Chapel Hill Florist is open Mondays through Fridays, and it delivers its products throughout the city of Chapel Hill, plus some surrounding towns and communities. Customers can expect to find a number of different flowers and plants, as the company purchases from local growers as well as brings in imports from around the world.
Victoria Park Florist
1129 Weaver Dairy Road Suite AG, Chapel Hill, NC 27514 | INSTAGRAM
Victoria Park Florist is another local option that's open Mondays through Saturdays in Chapel Hill. The independent business is found on Weaver Dairy Road and prides itself on making fresh floral arrangements with guaranteed satisfaction. The business accepts phone orders and online orders. Victoria Park Florist has been owned by a local husband and wife team since the mid 2000s. The shop offers floral design and blooming plants, plus workers can also design snack and fruit baskets.
University Florist and Gift Shop
124 E Franklin St, Chapel Hill, NC 27514 | INSTAGRAM
University Florist and Gift Shop sits on East Franklin Street in Downtown Chapel Hill. The business is open every day of the week except for Sundays. This family-owned business has been in operation since the mid 1940s and is run by a father/son team. The company offers a variety of different floral creations, plus they can help out with small gatherings and custom wedding designs.
Floral Expressions
11455 US Hwy 15 501 N, Chapel Hill, NC 27517 | INSTAGRAM
Floral Expressions is also open six days a week. This Chapel Hill florist provides gift baskets, plants and flowers for all occasions. The business is known for its hand-delivered, fresh flowers with some same day deliveries in and around the greater Chapel Hill area. Floral Expressions is another family-owned and operated business in Chapel Hill, North Carolina.
Bowerbird Flowers & Apothecary
1322 Fordham Blvd, Chapel Hill, NC 27514 | INSTAGRAM
Bowerbird Flowers & Apothecary is a floral design firm with locations in Chapel Hill and Durham. The shop operates and delivers on select days of the week, with its Chapel Hill studio close to Eastgate Shopping Center. The business is run by a mother/daughter team and oftentimes sources its items from North Carolina farmers. The shop offers flowers, holiday wreaths, and a botanical bar. Bowerbird also works with couples on wedding arrangements and it sometimes offers in-studio workshops.
Purple Puddle
400 S Elliott Rd # H, Chapel Hill, NC 27514 | WEBSITE
Purple Puddle is a gift shop and specialty florist in Chapel Hill. The shop not only promotes its gifts and its unique invitations but also its wedding floral arrangements. The business has 20 years of experience in delivering plants, flowers and gift baskets. You'll find Purple Puddle on South Elliott Road in Chapel Hill.
Bettye's Flower Design
1621 Purefoy Dr, Chapel Hill, NC 27516 | WEBSITE
Bettye's Flower Designs is yet another locally owned and operated flower shop in Chapel Hill. It was started by owner Bettye Jenkins more than 40 years ago. She can trace back her roots in the flower industry, as Bettye's grandmother was one of the original Franklin Street Flower Ladies. The shop is open Mondays through Saturdays. You'll find it on Purefoy Drive in Chapel Hill.