Raleigh's Top Neighborhoods of 2016
Posted by Brandon Duncan on Monday, February 1, 2016 at 2:35 PM
By Brandon Duncan / February 1, 2016
Comment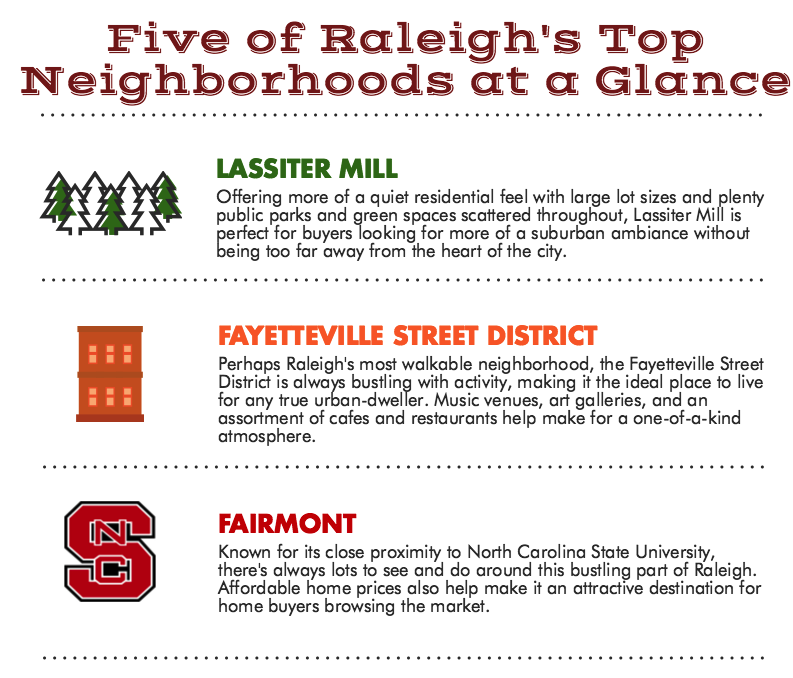 There's no doubt Raleigh is filled with all kinds of great neighborhoods to call home, but as we enter a new year and take a look around at the city's red hot real estate market, certain locations around town tend to be drawing a bit more interest than others. So if you're looking to make a move sometime in 2016, starting your home search in these 5 Raleigh neighborhoods might not be a bad idea...
1) Lassiter Mill
Centered on Lassiter Mill Park, Raleigh's Lassiter Mill neighborhood provides residents with one of the more peaceful setting you'll find in town. Rich in parks and open green spaces, if you like being outside and enjoy the stunning natural beauty of the North Carolina outdoors, it's hard to find a more tranquil and serene neighborhood than Lassiter Mill.
2) Fayetteville Street District

As one of the oldest parts of downtown Raleigh, living in or around the historic Fayetteville Street District puts you right in the middle of all the action. Lined with restaurants, shops, cafes, and many of Raleigh's earliest buildings, there's something special about being a part of this fabulous downtown neighborhood, especially when you consider its unparalleled walk-ability compared to many other parts of the city.
3) Fairmont
Located just north of North Carolina State University, Fairmont not only is one of the more convenient places to live in Raleigh but also one of the more affordable as well. For anyone already working at or attending the university, the upside to living in Fairmont needs no explanation. For anyone still not quite as familiar with the area, the abundance of things to do and see combined with the wide range of charming cottages, bungalows, and other well-built single-family homes makes it one of the top destinations for any Raleigh buyer to consider.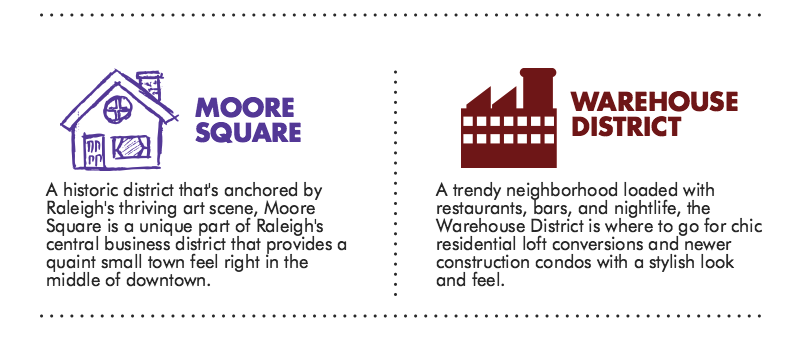 4) Moore Square

As a neighborhood that's listed on the National Register of Historic Places, you won't have to look far to see why Moore Square is one of Raleigh's top neighborhoods to live. As part of the city's central business district, Moore Square is also an extremely walk-able neighborhood, which is becoming increasingly important element to today's modern home buyers. From museums and entertainment to easy access to the Moore Square Transit Center, this is one downtown neighborhood that truly has it all.
5) Warehouse District

Having been completely transformed into Raleigh's hottest nightlife scene, there's much more to the Warehouse District than just bars and clubs. As younger home buyers are increasingly opting for city life, the Warehouse District is also considered a great place to call home as well, especially for anyone working in a creative industry that might be looking for an inspiring place to live and work. Full of chic and stylish loft conversions and a few newer construction condo developments, attractive options here are plentiful when it comes to fashionable attached living spaces with lots of unique flair.