How to Make the Most Money Selling Your Durham Home
Posted by Brandon Duncan on Sunday, January 7, 2018 at 8:57 AM
By Brandon Duncan / January 7, 2018
Comment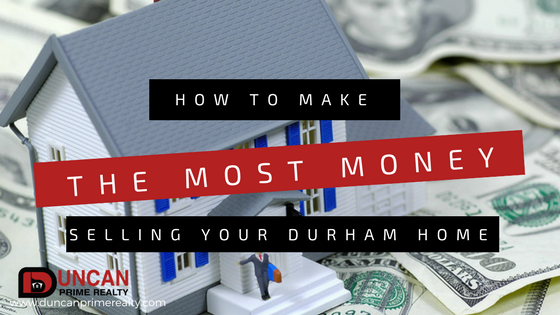 More often than not, prospective home sellers think getting their home sold in a timely fashion, and for the price they want, is a piece of cake. The housing market across the country has been on the upswing for close to half a decade at this point, and Durham was also just voted as Durham County's best place to live in 2017 by popular rankings and reviews site niche.com.
Higher Home Prices Can Work Against You
But once you start diving a bit deeper into the home selling process, you'll quickly realize selling a Durham home isn't always as quick and easy as it appears to be on the surface. First, consider this: as your home or condo's value continues to increase, many would-be home buyers are either priced out of your asking price, or priced out of the market altogether.
Home sellers also need to realize that while their home might also sell for more money in today's market, they too will face higher home prices once their home does sell and they're forced to look for a new place of their own.
What's Your Strategy?
It's also important to have an effective strategy before even putting your home on the market, which may include accurately evaluating what your home is worth in today's market specifically and diving deeper into how to maximize your home's appeal to a broad range of buyers. Home staging to major or minor home improvements should all be considered, both on the interior and the exterior of your home.
Putting a heavy emphasis on curb appeal is something I like to suggest too. After all, you only get once chance to make a first impression, and if home buyers don't like what they see on the outside, it won't be easy to even get them through the door to see what else your property has on the inside.
Put Yourself in a Buyer's Shoes
Finally, always try to put yourself in an outside buyer's shoes, which is often easier said than done. Most home sellers have a personal or emotional attachment to their home, but try your best to put that aside. If you were walking through your home as a prospective buyer, what areas of the home have upside, and what areas could use improvement? When you're in the market to buy a home, do things like clutter, messy closets, non-neutral paint colors, pet odors, and outdated kitchen appliances or bathroom features turn you off? If so, fix those problems in your own home before selling to help maximize its selling overall potential.