The Best Mid-Century Modern Furniture Stores in The Triangle Area
Posted by Brandon Duncan on Saturday, March 26, 2022 at 1:49 PM
By Brandon Duncan / March 26, 2022
Comment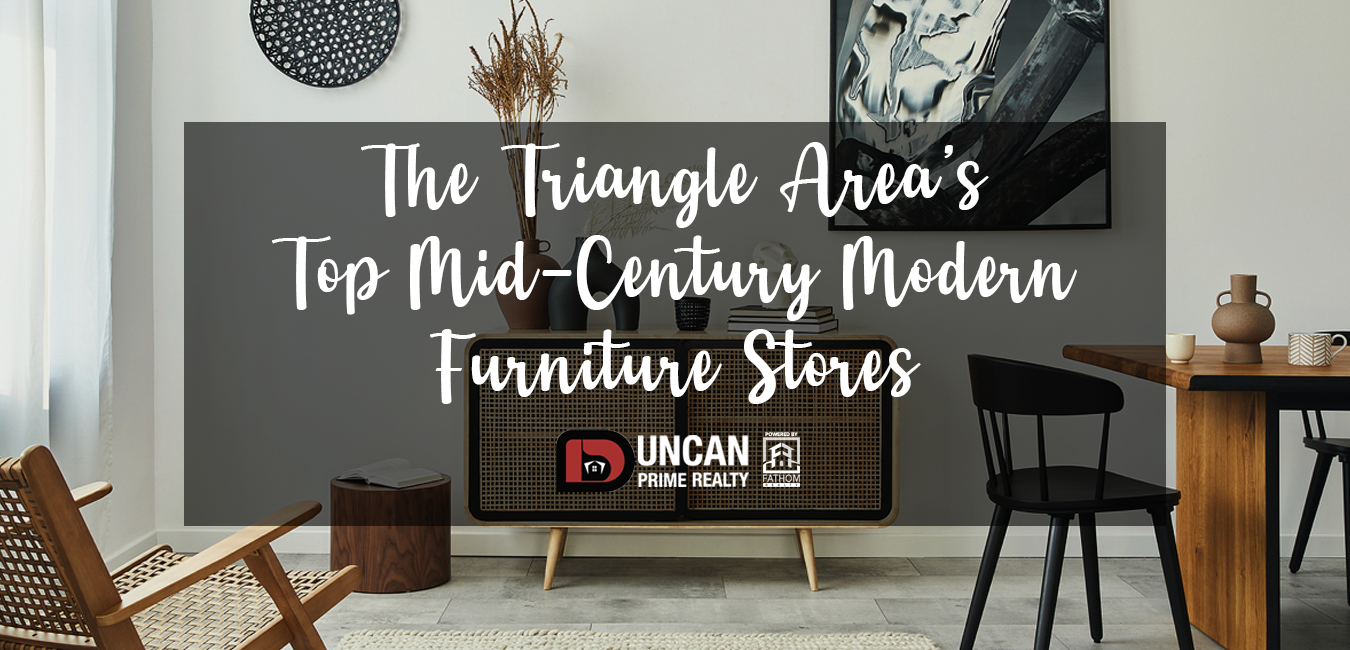 The Triangle Area has a large concentration of Modernist homes, including homes of this style in Durham, Chapel Hill, and Raleigh. While many people are attracted to Mid-Century Modern architecture due to its common style points like clean lines, flat rooflines and neutral color hues, others are simply searching for Mid-Century Modern furnishings to accent their existing homes.
Luckily, the area has several Mid-Century Modern stores to choose from, selling everything from chairs and tables to sofas and décor. Here are a few of the best new and vintage furniture shops to check out when you're in the Triangle Area.
Trig Modern - Raleigh
1053 E Whitaker Mill Rd # 109, Raleigh, NC 27604 | Website
Trig Modern is known to sell Mid-Century Modern furniture, light fixtures and more. Choose from sofas, chairs, or tables, plus some outdoor furniture, too. The shop sells what it calls functional art pieces, plus custom cabinetry, fine furniture, and sculptures. The Raleigh store sits along East Whitaker Mill Road.
Ambiente Modern Furniture - Raleigh
210 Hampton Woods Ln, Raleigh, NC 27607 | Website
Ambiente Modern Furniture in Raleigh sells new furniture, including Mid-Century Modern style-sofas, tables, and chairs. The furniture shop also sells office furniture, lighting, and décor. The Raleigh location is open every day of the week, off Hampton Woods Lane.
Classic Treasures - Durham
2659 Durham-Chapel Hill Blvd, Durham, NC 27707 | Website
If you enjoy the hunt for new treasures, you can always try taking your search to Classic Treasures in Durham. The furniture shop takes in gently used furniture on consignment, then sells items in its store to new owners at an affordable price. Because the inventory is always changing, it's a good idea to check in every once and awhile. The shop sometimes has some great options when it comes to Mid-Century furniture.
Love mid-century modern design?
Search
Triangle area modernist homes for sale
or contact Brandon Duncan, local modern home expert in the Research Triangle, for all your home buying and selling needs!
Area Modern Home - Durham
101 W Chapel Hill St, Durham, NC 27701 | Website
Area Modern Home has a shop in Durham that's open select days of the week. The shop prides itself on selling local, handmade modern furniture. Some of its chairs and sofas definitely have a Mid-Century Modern flair. The store has some unique, well-designed items for buyers to choose from in the Durham area.
Gibson Girl Vintage - Durham
1001 W Chapel Hill St, Durham, NC 27701 | Website
Gibson Girl Vintage is yet another option for buyers to consider in Durham. The shop sells vintage items, including Mid-Century Modern furniture and homewares. You'll find Gibson Girl Vintage on West Chapel Hill Street in Durham.
Retro Modern Furnishings - Raleigh
300 W Hargett St #24, Raleigh, NC 27601 | Website
Retro Modern Furnishings sells vintage items, as well as some handmade furnishings. Although the shop is known to restore some of its vintage items, you'll find that it sometimes leaves its Mid-Century Modern pieces alone for buyers to fall in love with all over again. The shop is open during select days and hours, plus you can sometimes set an appointment to visit. Retro Modern Furnishings is in the process of moving to a new location in Raleigh.
Gremlina Vintage - Apex
1019 Investment Blvd STE 107, Apex, NC 27502 | Website
Gremlina Vintage in Apex claims to specialize in Mid-Century Modern furniture, art, and collectibles. You'll find the warehouse on Investment Boulevard, but be sure to check ahead, as the location is only open to visitors on certain days of the week.